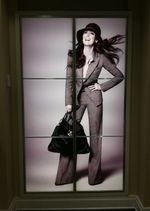 Let Sign-Age create eye-catching and effective Point-of-Sale signage for your retail business to capture your customer's attention and drive sales.
We offer a complete sign solution, from pylon signs and sidewalk signs that bring customers in your door, to colorful banners and posters that will maximize your sale or promotion, and channel letters and logos to spotlight your brand.


Call Sign-Age today to discuss your many options in retail signage, including:
- Hours of Operation Lettering
- Posters
- Parking Lot Signs
- Sale Banners
- Bandit Signs
- Window Graphics
- Identity Signs
- Static Window Cling
- Sidewalk Signs & Sandwich Board Signs
- Glass Decals
- And much, much more!
Ceiling Blade

Store Hours Sign

Wall Mural

Retail Store Front

Window Graphic

Projecting Sign