Company Culture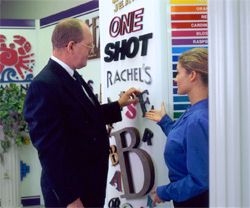 Celebrating over 30 years in business, we provide expertise to make the process of purchasing signage easy for you. Sign-Age always goes Beyond the Ordinary to serve our customers. Your customers' and clients' expectations are beyond the ordinary; therefore, your signage should visually communicate your company's commitment to the extraordinary!
Ongoing education is important for our company, so that we may offer you the latest technology and expertise. In business since July of 1990, Sign-Age is a leader in custom fabricated promotional, informational, vehicle and architectural signage. Planning plays a large part in our success. We take the time to understand your needs and desires. We care about providing the right solution for your needs. We really care about our customers and take great pride in our quality of service.  All of our products are guaranteed to your satisfaction!
Discover how Sign-Age combines friendly customer service with prompt quotes, attention to detail, and knowledge of the latest sign materials to provide you with the best signage that will meet your needs.
Trade Associations
Trade Associations that we are active in are:
ISA - SGIA - UASG - PDAA - AAF Tampa Bay - AIA Tampa Bay
Sign-Age networks with successful sign businesses all over the country through the Sign Biz Network, which allows us to provide service for you on a nationwide level, as well as stay current in sign industry trends and ongoing education.
Sign-Age's experienced team is available to serve and assist you with practical suggestions and simple answers to even the most complex signage questions. Just drop us a line via our contact page, or give us a call: 727-536-9400.
Our mission is to go beyond the ordinary in the way we serve our customers, care for our employees, treat our vendors, and support our community.
Sign-Age is involved in many worthy charitable causes. Our company values are:
Faith - Integrity - Excellence - Innovative - Teamwork