Vehicle Graphics-Full Color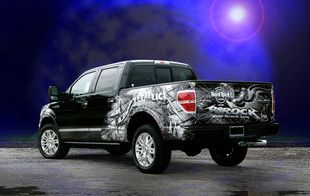 GO BIG! GO BOLD! Grab viewers attention, capitalize on free advertising space, and create name recognition with every mile traveled.
Wrap around graphics shout over the competition every time!
Let Sign-Age wrap your entire vehicle with a custom, full-color design.
Or, our design experts can also help you achieve maximum impact on a budget by combining full color graphics with vinyl lettering for a partial wrap on your car, truck, van or boat.
"Go Beyond the Ordinary" with your car, truck or van signage!
Sign-Age is certified by 3M and the United Applications Standard Group (UASG) for the highest quality vehicle wrap graphics installation. This allows Sign-Age to provide you the "Total 3M Warranty Solution".
In addition, Sign-Age of Tampa Bay is Master Certifed by the PDAA (Professional Decal Application Alliance).
Both of the above certifications assure you will have the highest quality application of your car or truck image for a long period of time.
Call or email us today for an estimate!