Exhibit Stretch Pop Up Displays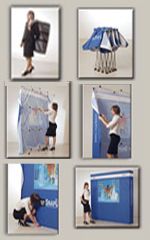 Our newest Stretch Pop Up addition offers the quickest and easiest way to set up and display a seamless large format graphic print.
The Graphic image is printed on stretch fabric material and then attached to a frame system with velcro tape. In erecting the system, the fabric is automatically stretched out and a smooth surface is achieved. For ultimate simplicity, the printed fabric simply folds up with the frame system during take-down and storage in the carrying case.
The fabric may also be removed and stored separately, if desired, since attaching the print takes only 5 minutes.
Extremely lightweight - under 15 lbs!
Fast & simple graphic attachment
Available with top-quality, wrinkle-free
fabric digital print
All components can be packaged to ship via UPS, FedEx or be checked as airline baggage.
Stretch Pop Up is ideal to use at short term events and exhibitions when time is a decisive factor. Contact us today for more information!