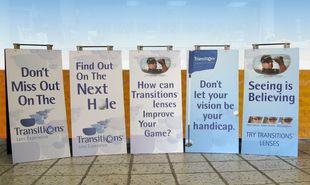 Shout your brand message, event or promotion from the sidewalk.
Also known as sidewalk signs or A-frames, an effective sandwich board sign will increase the visibility of your storefront and boost walk-in traffic. They are available in a wide range of colors and materials to fit any budget. The graphics are interchangeable, so make the most of your investment and change signs frequently to keep your messaging fresh.


Sandwich boards are easy to set up and impossible for passersby to ignore! Put a sandwich board sign in the path of your potential customers and draw them inside. Call your SIgn-Age Visual Communications Consultant today to learn how sandwich board signs can bring new customers to your door.