Waterfall Signage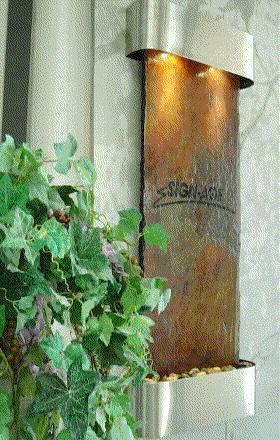 A comforting and tranquil environment is the natural result of the combination of adjustable soft halogen lighting over the gentle movement and sound of water in motion. Personalize your sign by adding your company logo, mission statement or favorite verse.
Choose from natural chiseled slate, the timeless beauty of marble, gentle reflections of mirror or the rich color of feather stone. Your water fall sign will blend the beauty of natural slate and rain forest marble trimmed in premium metal, with the gentle flow and sound of running water which creates the perfect ambiance for your office or home.
There are over 700 combinations of stone and hood/tray finishes. You can choose your hood and tray finishes from stainless steel, copper, antique blackened copper and copper vein. The slate and marble stones come in a multitude of colors and sizes. Come by and see some examples today!