Hip Pop Display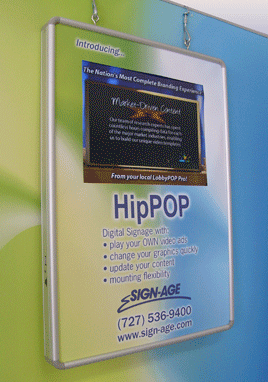 Sign-Age is featuring a smaller and simpler option to advertise – HipPOP! This unit can be used virtually anywhere! Promote your latest special at your sales counter or in your display window. Set your trade show booth apart by presenting your products and services on this dynamic, entertaining video display. Take it to meetings and conventions and promote your products or announce your convention agenda outside the meeting room door.
A USB flash drive is used to load images and video clips. Play your OWN video ads! It supports JPEG, MPEG1,2,3 and MP3 files. The handy remote control helps you choose how you want your graphics to display. Change your promotion graphics quickly and easily. Update your content easily by plugging your USB into the frame and it automatically uploads. You can use the easy flip-open frame to change the digital graphics face as often as you desire.
Relax with the ease of knowing your audience is experiencing great video, professional audio voiceovers, music and a completely engaging advertisement.
HipPOP is an affordable solution that combines education and entertainment. Lift your company sales by 62% with this high impact display unit.