Directory & WayFinding Signs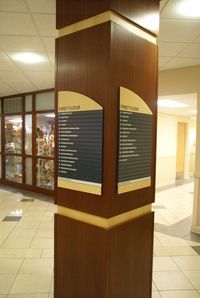 Help your audience find their way throughout your facility with custom directories and wayfinding signage.
Sign-Age can help you with directories, overhead signs, evacuation signs, wall signs and suite signs that are easy to read so that your guests may find their way to their destination quickly.
When properly developed, the core elements of a wayfind program work together to assist users in:
Knowing where they are
Identifying their destination and following the best route
Recognizing their destination upon arrival
Safely returning back to their point of origin

A major objective of wayfinding systems is to fulfill the accessibility needs of special user groups, including those with varying degrees of visual impairment.
Sign-Age of Tampa Bay, Inc. works to develop wayfinding systems that assist users in all types of places such as schools, office buildings, hospitals and shopping centers.
We stress design flexibility, superior functionality and attractive appearance to provide lasting wayfinding and signage solutions.