Engraved Signs and Plaques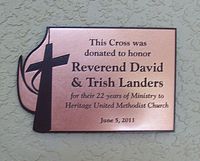 Engraved Signs and Plaques are a distinctive form of signage and can be used in commemorating an important figure or event. They can also be utilized for either exterior or interior applications and when used in directional signage, they provide a decorative solution for a multitude of business applications.
Engraved Signs and Plaques are very versatile; they can be manufactured in metal, ceramic, stone or wood and attached to a wall, stone or post.








Each sign is custom made according to your needs. They can be produced in many sizes with various border styles, letter sizes and styles, colors, finishes and mounting methods. Three dimensional or flat relief portraits may be cast as part of bronze or aluminum plaques.
Engraved nameplates and desk signs can be inexpensively produced by us in a variety of colors.