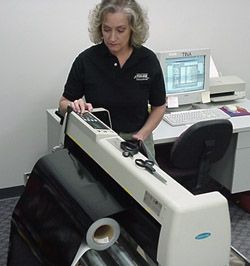 Sign-Age looks for many qualities in the individuals we hire -- the ability to communicate effectively, a high level of organization, strong interpersonal skills, strong computer skills, high integrity, and a desire to succeed.
Regardless of an applicant's qualifications, we always look for several attributes in particular -the desire to provide high quality products with excellent customer service. We can train people how to work with clients or run pieces of equipment, but to have passion for customer service and pride for your work takes a unique individual. Another most important attribute that we look for is integrity. Sign-Age guarantees our commitments to our customers and our employees and we expect our employees to work together as a team who take pride in each other and help each other grow in their talents.
If these are qualities you possess, we're sure you'll find a rewarding career with us. We supply our team with the latest technology, afford them the best training available, and provide every opportunity for growth within our company.
Current Openings...
Thank you for expressing interest in a career with Sign-Age. We are always accepting resumes. Please feel free to email your resume to Michael Quigley at mquigley@sign-age.com
Graphic Artist Position Full time position for an individual with at least three (3) years experience in a paid position using PhotoShop & Illustrator. Job includes designing trade show displays, posters, vehicle wraps, interior/exterior architectural signs and much more. Preflighting files and some operating of wide format printers and laminators are part of the job specification. An eye for details, a desire to produce quality, and a sense of humor are musts. Strong attendance/punctuality record is critical. Email resume to: mquigley@sign-age.com