Robert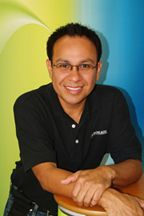 Graphic Artist
Robert grew up in Chicago and relocated to Florida in 1994.
The bulk of his work experience is in Publishing and Pre-Press.
As a career move, he decided to explore his creative side in Graphic Design and enrolled in school at the International Academy of Design and Technology where he obtained an Associate of Science Degree in Interactive Media.
Robert is an avid sports fan. His favorite teams are the Chicago Cubs (with the Rays a close second) and the Dallas Cowboys.
Robert and his wife Carolyn enjoy traveling to the Caribbean and Mexico.