Lance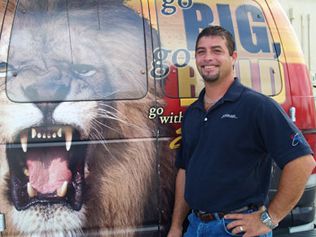 Installation/Applications Specialist
Lance, or as we fondly refer to him, "Dr. Whitaker" has been in the sign industry since he was in high school. "Dr Whitaker" is known in the industry as the "vinyl doctor", and is one of the best in the country at vehicle graphic applications!
Lance started his installation service company, Graphic Time, in 1998, and merged with Sign-Age in 2001.
A talented artist, and extremely talented graphics application tehnician and installer, Sign-Age is very fortunate to have Lance and Graphic Time on our team. Our customers love working with Lance and say that he is very professional.
Lance is a proud father of 2 boys, Vance and Austin and stepsons Josh and Jordan and enjoys softball and other activities along with his wife Jackie.