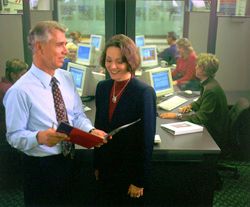 In this section you'll find information regarding the people, culture, and physical plant of Sign-Age. If you want to know where we're located, our hours of business, or simply what makes us tick, just follow the provided links for more information.
Your customers' and clients expectations are beyond the ordinary; therefore, your signage should visually communicate your company's commitment to the extraordinary!
Sign-Age goes beyond the ordinary to provide you with the resources, expertise and design flexibility to meet your signage needs. Ongoing education is important for our company, so that we may offer you the latest technology and expertise. We are currently one of 50 companies nationwide to be certified for color management by the International Reprographics Association. Further, we are one of 60 companies nationwide to be certified by the United Applications Service Group and 3M for vehicle graphics applications.
Celebrating our 19th year in business, Sign-Age is a leader in custom fabricated promotional, informational and architectural signage. Planning plays a large part in our success. We take the time to understand your needs and desires.
Memberships that we participate in are the Digital Print Institute, International Reprographics Assoc., International Sign Assoc., United States Sign Council, Sign Biz, Inc., Tampa Bay Advertising Federation,Professional Vehicle Industry Assoc., United Applications Service Group, TS Central Assoc., and several local Chambers of Commerce.
Sign-Age's experienced team is available to serve and assist you with practical suggestions and simple answers to even the most complex signage questions.
Our mission is to go beyond the ordinary in the way we serve our customers, care for our employees, treat our vendors, and support our community.