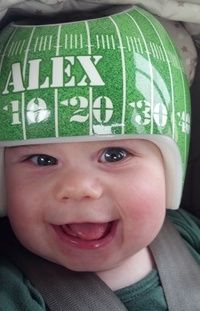 Sign-Age had the privilege to do another Wrap Buddy. The family contacted us thru the Wrap Buddy site and started the process. We were so excited to meet Alex, Laurel and grandparents too! Alex came prepared for his new football design on his helmet, sporting his favorite team on his outfit, the Jets!
The family wrote," We just wanted to take the time to thank you very much for making Alex's helmet a One of a Kind. He was so happy on the car ride home in his new helmet. When Tim got home from work, he could not stop looking at it. It is a wonderful service that you provide for the children and we truly appreciate it! Thank you again!!!"
Thank you Nelson family for letting Sign-Age be a part of creating that smile!