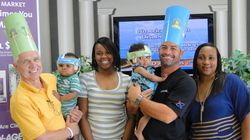 Sign-Age was pleased to do two more baby cranial wraps, this time for twins! It was double the pleasure to help Courtney and Chloe spruce up their new head gear! Mike and Lance got jealous at how great they looked, so they improvised with their own version.
Twins Mom Sylvia shared, "Your kindness, help, understanding and craftsmanship superseded all expectations I could have imagined when I started on this doc band wrap journey. Your staff was equally talented and very pleasant. They made us feel like a part of the Sign-Age family. The whole experience will be talked about for years to come, and definitely will hold several pages in each of their baby books and my heart...how you took my twins from ordinary to extraordinary."
This is a fun charity that allows children to look great in their medical devices while bringing a smile to the parents faces.
Sign companies around the country are joining in to help locally by wrapping baby medical head bands with a colorful sticker chosen by the family.
Sign-Age of Tampa Bay is happy to be involved with this great cause here on the west coast of Florida.
Click on the Wrap Buddies link at the bottom of this page to learn more about this charity.