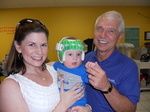 Testimonial from Jackson's Mom: "Thank you so much! The helmet wrap turned out great. Tell Lance we love it! You and all of your staff were so kind. You made today a really special experience.
I even got a little bit teary eyed a couple times as the helmet was being wrapped, just thinking of your generosity. As a mom, I want the best for my baby boy. Since that means a helmet is what he needs, it is just so great that it can be stylish.
Please pass along my heartfelt gratitude to all of your staff. We had a great time and loved how you rolled out the red carpet with seats for us to watch the wrapping and everything!
Thank you, Haley."
This is a fun charity that allows children to look great in their medical devices while bringing a smile to the parents faces.
Sign companies around the country are joining in to help locally by wrapping baby medical head bands with a colorful sticker chosen by the family.
Sign-Age of Tampa Bay is happy to be involved with this great cause here on the west coast of Florida.
Click on the Wrap Buddies link at the bottom of this page to learn more about this charity.